Molnar Power Adder Plus Connecting Rods
Molnar Power Adder Plus rods, the newest addition to the constantly expanding line of superior high performance and racing connecting rods from Molnar Technologies. These extreme duty 4340 steel billet H beam rods are available for many different engines and several popular lengths.
The standard series of Molnar connecting rods are extremely strong and durable parts but with more and more people using power adders the demand for even stronger rotating assembly components continues to evolve. Molnar developed the PWR ADR PLUS™ specifically for use in extremely high boost supercharged and twin turbo engines as well as those using very large nitrous systems.
Currently available Molnar Technologies Power Adder Plus rods are listed in the table below.. If you do not see rods with the specifications you need for your project please do not hesitate to contact us as new products and part numbers are constantly being added to the product line.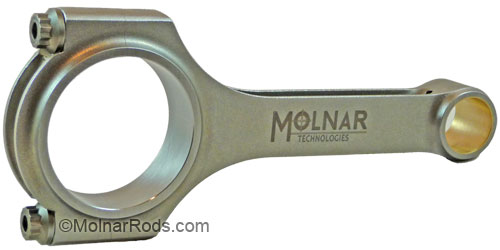 Molnar Power Adder Plus Rod specs listed in the below tables:
Length Length of the connecting rod, as measured center to center, in inches.
Wt Weight in grams, of one complete connecting rod assembly
Desc Additional information about specific applications
Jrnl Crank rod journal diameter
Pin Size Piston pin diameter, in inches or millimeters
BE Width of the crankshaft end of one rod
PE Width of the piston end of one rod
Bolts Rods come with 7/16″ diameter ARP2000 fasteners installed unless noted otherwise in the individual listing
Part Number Molnar Technologies Connect Rod set part number
Price The price shown is for a complete set of rods for the engine
C-C         WEIGHT   BOLT            BE BORE               PIN SIZE  BE Width    PE Width
6.125      737      7/16 ARP2000  2.225               0.927         0.940           1.010